5 Great Golf Experiences in Muskoka
Muskoka is a place for the whole family with plenty of adventures for all tastes. The region offers many leisure and entertainment options and is well known for one of them: Golf! Considered by many the best golf destination in Canada, Muskoka features many great courses for beginners and experts alike. With many golf courses on SCOREGolf's Top 100 List, you will be sure to find your perfect round! Not sure how to find the right course for you? We've highlighted five golf courses below that may be just right for you! 
    1. Muskoka Bay Resort 
Placed #22 on Canada's Top100 Best Golf Courses, Muskoka Bay is a luxury resort offering everything you'll need for a perfect relaxing getaway. The accommodations are spectacularly designed and include lots of space and a beautiful course view. There is also a clifftop restaurant serving breakfast, lunch and dinner. With an infinity pool, fire pits and tennis courts, this resort is sure to please! 
Port Carling Golf & Country Club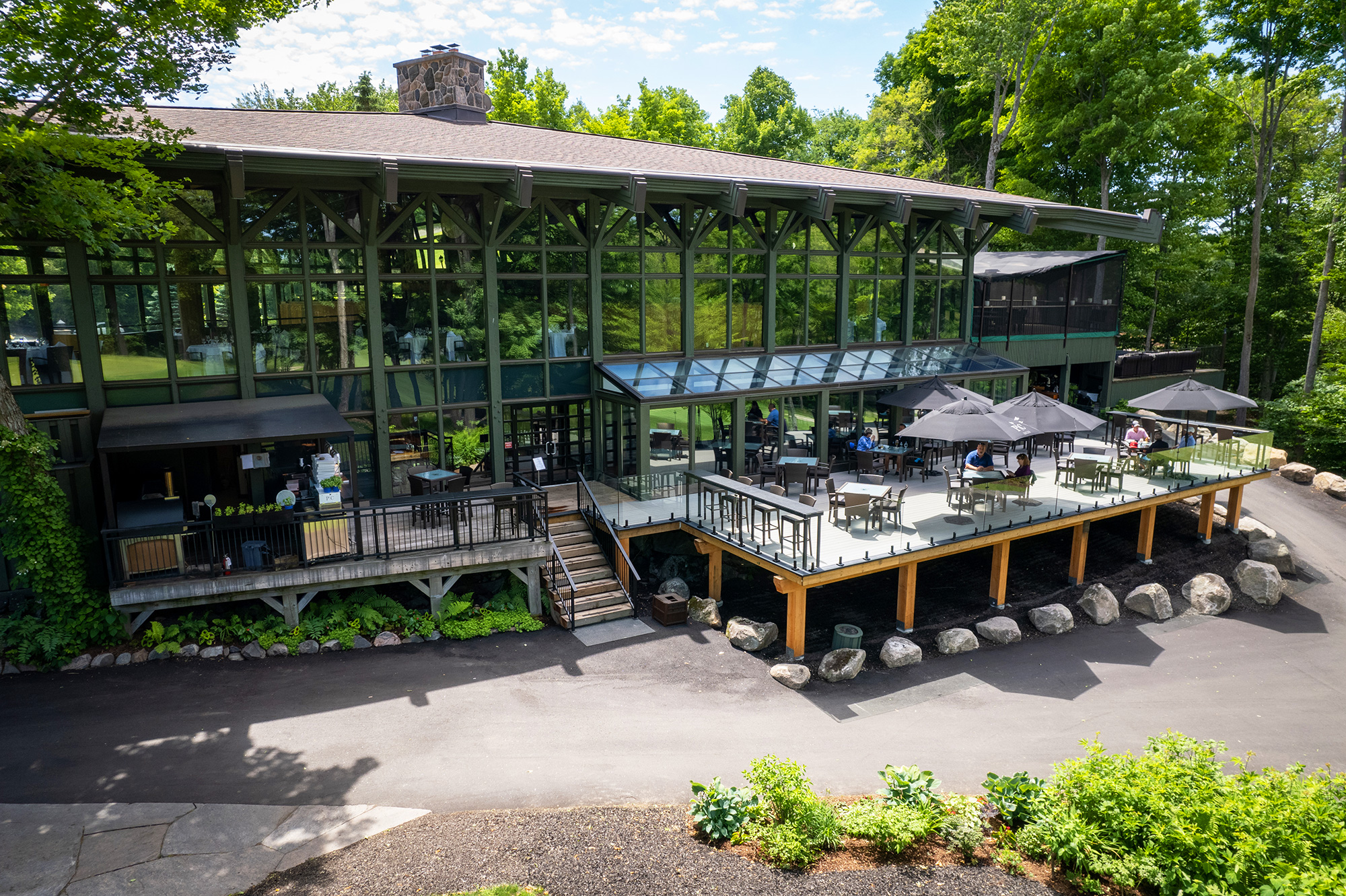 Just south of Lake Rosseau, you'll find Port Carling Golf & Country. Just south of Lake Rosseau, The club is among the 40 best golf courses in Canada and distinguished by its incredible use of Muskoka's rugged landscape. Through the course's 18 holes, you'll find breathtaking views and picturesque scenery for your next tee-off. 
To complete the experience, you can grab a quick bite and beverage at the restaurant's outdoor deck overlooking the course. You might also want to dress up for an elegant evening in the dining room which includes an extensive wine selection and steaks that are among the best in Canada. 
The Fairways at Kirrie Glen 
With 9 holes, the golf course offers experienced players amazing scenery for the perfect golfing session. If you're new to golf life, The Fairways at Kirrie Glen may be the perfect destination. The club was designed to allow players to improve their abilities and deliver challenges for those looking for it.  
With affordable rates and landscapes inspired by the Scottish glens, the course includes flower-lined paths, elevation changes and expansive fairways. Special leagues are also happening weekly: Lady's Day every Wednesday morning and Men's Day every Thursday morning.  
The Lake Joseph Club 
Right on Lake Joseph's beautiful shore, you'll find an elegant golf course and club. When it opened in 1997, The Lake Joseph Club caused jaws to drop in the golf world with its granite crags and towering trees. The club was then named Canada's best new club by GolfDigest. The course has 18 holes and beautiful landscapes by the water as a background. You'll also find golf schools and clinics helping golfers with anything from full-swing instructions, course management and the psychology of golf. 
Finish your day at The Clubhouse Bistro, serving breakfast and a full dining menu with wine by the glass. If you're looking for something a bit fancier, head to Water's Edge Wine & Grill, offering outstanding service and a patio by the lake. If you wish to extend your stay, you'll find quiet and comfortable villas equipped with fireplaces, private decks and a barbecue. 
The Rock Muskoka
Carved on the shores of Lake Rosseau, this world-class course will impress you. The Rock is an 18-hole course designed by legendary golfer Nick Faldo to challenge players and provide unique experiences. The club also promotes special events such as tournaments, junior camps and demo days. 
To complete your day, visit their shop with an incredible selection of golf gear and accessories, or have a seat for lunch,  dinner or refreshing beverages at their beautiful Grill & Patio overlooking the 14th and 18th holes. 
View the Full List of
Canada's Top 100 courses here
and see what courses you've played in Muskoka and outside of it! Good luck on the fairways!
---